Eetamax Flora Flameproof Lights
Eetamax Flora Flameproof Lights are the most ideal solution for illumination in hazardous environments in industries like petroleum refineries, offshore platforms, chemical processing plants, and areas of flammable dust and gases. Certified by CIMFR and PESO as II A, II B, as well as II C category, these products can withstand the continuous presence of flammable gases in the environment. With high efficacy of >120 lm/W, Eetamax Flora lights save upto 55% electricity against conventional explosion proof lights.
We are Manufacturer, Supplier and Exporter of Flameproof LED Fixtures. This product is also known as Flameproof Fixtures, Flameproof Lights. Our setup is situated in Ahmednagar, Maharashtra, India. We provide best quality LED Lightning solutions for Industries.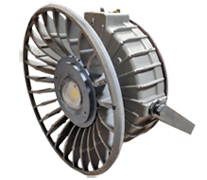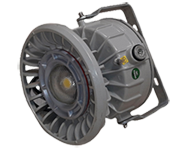 Mechanical Specification

Fixture Housing

LM6 Aluminium Alloy PDC for optimum thermal management with Eye bolt & Cradle arrangement

Diffuser Closure

Borosilicate Glass Lens

IP

IP66

Certification
CIMFR & PESO
Zones
Zone 1,2 & Zone 21,22
Gas Group
IIA, IIB & IIC
Luminaire Specification
Available Variants
30W / 40W / 60W / 80W / 100W / 120W / 150W / 200W
Total Lumens
3600 lm / 4800 lm / 7200 lm / 9600 lm / 12000 lm / 18000 lm / 24000 lm
System Efficacy (lm/W)
>120 lm/W

L70 Life

>60,000 Br.hrs

Temperature Class

T6 (Best temp. Class of <85°C)

Operating Temperature

From -20° to +50° C
LED Driver Specification

Type of Driver

Constant Current

Input Voltage Range

180 VAC ~ 300 VAC | 100 VAC ~ 305 VAC

Frequency Range

50 Hz / 60 Hz

Power factor
> 0.97
Total Harmonic Distortion
< 10 %
Surge Protection
4 kV / 6kV
Protection
Surge Protection
Output Short Circuit
Overload Protection
Over Voltage Protection
Thermal Protection
LED lamp

Light Source

COB

Lamp Efficacy

>150 lm/W

Colour Temperature

6500K (Other CCT Available on Request)
CRI
>80
Certification / Report

LM80, Photo Biologically safe
---
STANDARD PARAMETERS
Mechanical Drawing

Sr.

System Wattage

Total Lumens

Outer Dimension (mm)

Fixture Height (mm)

Weight (Kg)


1

30W

3600 lm

255 mm

195 mm

3.2 kg

2

40W

4800lm

3

60W

7200 lm

4

80W

9600 lm

285 mm

215 mm

5.5 kg

5

100W

12000 lm

6

120W

14400 lm

7

150W

18000 lm

8

200W

24000 lm